Affiliate
Advertisement
Maximize sales of ad and media owners through affiliate advertisement on web/app and ad-network.
Affiliate ads

This service assists advertisers and media owners to maximize their sales through affiliate marketing.
Without any initial and monthly costs, our clients can benefit from pay-per-performance web promotion measures for various products and services such as E-commerce website and financial services.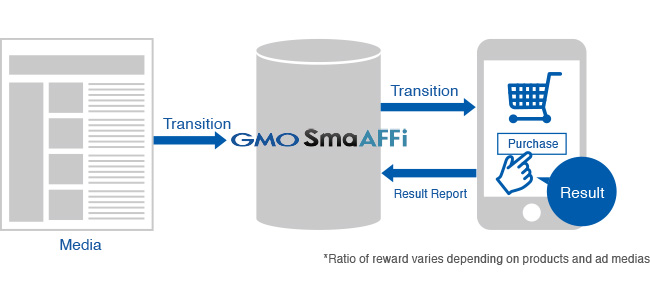 No Initial and Monthly Cost

Cost will be charged only when user performs specific action via advertisement(CPA).



Reduce Unnecessary Fee for Advertisement with Security Functions

Implementing original security function to eliminate results obtained through unauthorized way, we lessen the risk of occurring fee for unnecessary advertisement.



Detailed Consulting Service

Based on our experience and know-how from GMO SmaAD, we do the following for you: choosing the optimal media for what you advertise, inputting contents, and setting management screen for advertisers to check the result of their advertiseent.



Suggestion and Development of Advertiser's Own Web Media

We, with our plenty of experience, can develop and operate advertiser's own web media.



Step-by-step Result Setting

Depending on the demand of advertisers, you can freely set multiple times of reward system.


* Japanese page only
Advertisement for Smartphone Apps

ASP for pay-per-performance advertisement on smartphone app.
This is our consulting service to maximize ad effect, targeted the engagement of those who download your app.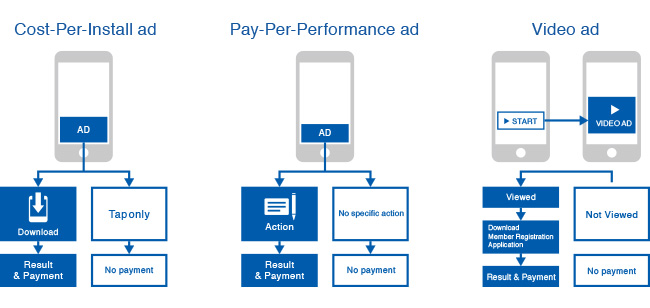 Promotion focused on ROAS

Contribute to increase sales of advertisers with cost-effective distribution network.



Overwhelming Result of User Acquisition

Integrated with main ad networks, we can achieve large quantity of user acquisition.



Suggesting Goal to Maximize Cost Effectiveness

Setting goal to satisfy KPI of ad owner after app download can increase user engagement on your application and can let you have more active users.



Realize Higher Result with Security Function

Our unique logic system eliminates results from unauthorized media engaging in ineffective and unfair advertisement and enables your secured promotion.


* Japanese page only
Pay-per-performance DSP for Mobile Apps

Demand side platform allowing app developers to acquire users with high engagement through pay-per-performance
system, maximizing return on advertising spend (ROAS) through acquisition of suitable users and measures for retention.


Advertise with fixed CPI/CPA

Not only CPC/CPM-type ad delivery but low-risk ad delivery plan with CPI/CPA are available.



The Largest Number of Advertising Spaces

Most of all Japanese SSP/Ad exchange are connected and has largest monthly ad spaces even as domestic DSP.



Precise Targeting

Approach to users with high LTV based on their usage situation of apps and digital contents.



Full Operational Support

We make full use of our past experience of app promotion in various categories for holistic operational support.


* Japanese page only